Heidelberg KSBA Cylinder Press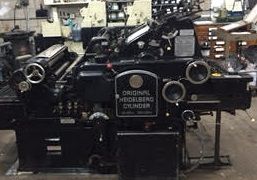 The Newest in our collection, but with years of service under her belt, the Heidelberg Cylinder Press is a large format Letterpress running over 5,000 15x22" Sheets per hour. Coasters, Greeting Cards, Custom Diecutting and so much more can all be achieved in one machine.
This press spent its entire life in Ohio, at one point operated by the father of a great friend and associate of DeFrance. With help we moved it here to San Diego and are really proud to restore and continue to run this amazing press.