About Us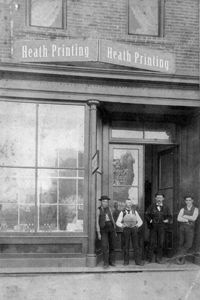 "Helping San Diego make an impression, Since 1893"
DeFrance Printing has been San Diego's partner in printing for over a century. Founded in April of 1893 by Albert Heath, whose founding principles were quality printing with exceptional service.  Over the past century through our experiences and daily interactions we still maintain these principles today. 
While the principles have stayed the same our expertise has evolved to meet our client's needs-- personal service, detail oriented, competitive pricing.  After 125 years and thousands of satisfied clients, there is no better partner for your design, print, mail & communication needs.  It's a San Diego tradition. 
Albert Heath
Founder Heath Printing 1893-1938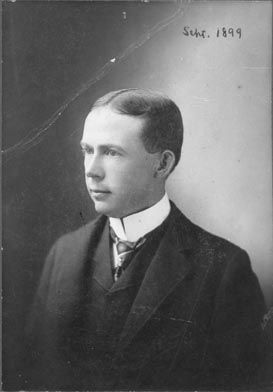 In the year 1893, Albert Heath made the leap of faith that had long been his dream. He took a leave of absence from the International Typographical Union, Local 221, to embark upon an entrepreneurial endeavor, and Heath Printing Company was born.
He opened shop with two platen presses (pictured below right), powered by an elaborate overhead-mounted configuration of belts and pulleys, attached to a motor borrowed from a street car! (One of these presses was still in operation until 1989!)
After 45 years of owning and running a successful, dream come true, Albert Heath, content with his contribution to San Diego's printing industry, uttered his final managerial instructions, "Stop the presses." The founding father retired in 1938 and moved to what would be his final resting place in Colorado Springs, Colorado, as he passed away a mere three years later in 1941.
This however, would not be the end of the historic Heath Printing Company, as upon retiring, Albert Heath sold his successful San Diego start-up to a dedicated Heath employee of twenty-three years, Mark Schwartz, and production began again almost immediately.
Mark & Doug Schwartz
Owners of Heath Printing 1938-1978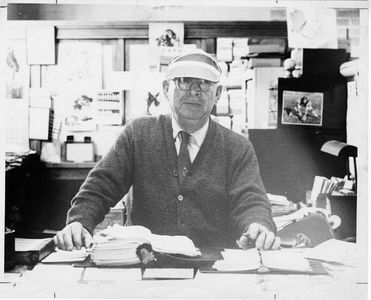 Mark Schwartz's printing experience began in the world of headlines and deadlines. In the town of Bisbee, Arizona, he worked for the local newspaper, the "Weekly Lyre."
When Arizona lost it's appeal and the cool ocean breezes of San Diego blew in the winds of change, Schwartz made his move.                                               
Upon settling in San Diego, Schwartz wasted no time picking up his craft, securing a job with the in-house print shop of the famous Hotel Del Coronado. Affirming his decision to leave Arizona, the Hotel Del Coronado offered an exciting atmosphere in which to work. The movers and shakers of the world were attracted to "The Del" from "A-List" entertainers and political dignitaries to the captains of industry.
In spite of the intrinsic excitement of his workplace, life has a way of dulling a situation over time and, alas, the new had worn off of that crystal chandelier, and it was once again time for change.
In 1915, Schwartz found himself working for a self-made business success by the name of Albert Heath. The move to Heath Printing Co. would prove to be a lucrative one, when in 1938 he became the new owner, buying it from the then retiring Albert Heath.
The company would continue to flourish under the new ownership. So much so that in 1952 Mark Schwartz would hire on his son, Doug, effectively creating a family business. Together, this father and son team were the first printers to introduce foil stamping and embossing, using modern equipment, to the San Diego area. The techniques and equipment used by Heath Printing are still the industry standard today.
After forty years of service to the Schwartz family, Heath Printing Company retired another owner in favor of an eager young man by the name of Ronald Williams.
Ralph DeFrance
Founder of DeFrance Printing 1947-1976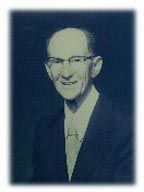 In 1947, a respected businessman from the great  "North Star" state of Minnesota packed up his wares and headed out for the prosperous promise of the west. In particular, a southerly paradise on the coast in beautiful California known as "America's Finest City." A military town, fiscally and emotionally invigorated following the victory of WWII, San Diego was ripe for the ambitious entrepreneur.
Ralph DeFrance had printing coursing through his veins. His father (Roy) was the editor of the "Kittson County Enterprise" newspaper back home in Minnesota, his brother was a printer the "Arizona Republic" newspaper, and two other siblings were in the business as well. It seemed appropriate, if not predestined that he would open a printing company, and so DeFrance Printing Company was born.
DeFrance nurtured and developed the successful, unionized, commercial, offset printing company that bore his name until retiring in 1976, at which point he sold the company to a former employee named Paul Howell
Paul Howell
Owner of DeFrance Printing 1976-1989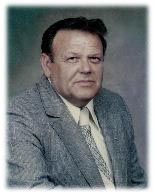 Paul Howell was a career printing man. He began acquiring printing knowledge and experience at the tender age of thirteen, while working for Scholl Printing in West Virginia, 1935.
In 1953 he moved to San Diego for a brief stint of employment at the "Star News," before moving on to DeFrance Printing Co.
He would only stay at DeFrance for a couple of years, however this would prove long enough to forge a lasting friendship, based on mutual respect between Howell and his employer Ralph DeFrance. A relationship that would eventually yield a business opportunity for Howell, but not soon enough for his fiery ambition. Fueled by the truly American, empirical need to be master and commander of one's own fate, Howell acquired his own printing company, "South Bay Press." Howell owned South Bay Press until fate laid tracks back in the direction of Ralph DeFrance. In 1976 Howell bought DeFrance Printing from his friend and former employer Ralph DeFrance. A pattern would seem to develop when thirteen years later, a former employee of Howell's would purchase DeFrance Printing and carry it into the next millennium.
Ron Williams
Owner Heath Printing Inc., DBA DeFrance Printing 1978- 2020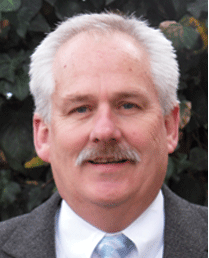 Shortly after Ronald Williams took the helm at Heath Printing in the spring of 1978, it became abundantly obvious that this was a man who moved at the speed of business. Heath Printing responded to him in kind by rapidly growing in size and capability. Williams, recognizing signs of the inescapable juggernaut that is a trend, further embraced and emphasized the foil stamping and embossing style of printing that was quickly becoming a Heath Printing specialty.
While the emphasis in style has endured the printing industry's constant state of flux, it's noteworthy to point out Williams' steadfast hold on the original philosophies of Albert Heath. Decades after his passing, Mr. Heath's motto is posted on the wall and vigilantly adhered to; "We put printing ink on paper in a style that meets with the approval of a large number of very particular people."
HEATH Printing Acquires DeFrance Printing
The year was 1989, and the country was in the grips of a devastating recession. For business, it was a time generally spent tightly drawing the purse strings and riding the storm out. However, Ronald Williams took a decidedly different tack, proceeding aggressively on the offensive. Foreseeing the synergistic effect of his company's letterpress expertise, merged with DeFrance Printing's commercial, offset client base, the new experienced, business savvy owner of Heath Printing Company, acquired DeFrance Printing, expanding his influence exponentially.
Today, the storefront remains DeFrance Printing, operating as a subsidiary of the oldest printing corporation in San Diego, Heath Printing Company.
DeFrance Acquires Budget Copy & Print
In 2008, again with the country facing slow times and many printers calling it quits Ron Williams decides to attack it head on.  In slow times businesses need solid marketing partner, someone who will bring customers in the door and spend money.  Ron felt adding Budget Copy's digital printing and mailing expertise would fill in the much needed marketing capabilities and make DeFrance a stronger partner to all of our customers.